You're Invited: The Brant Social Innovation Roundtable
June 16, 2014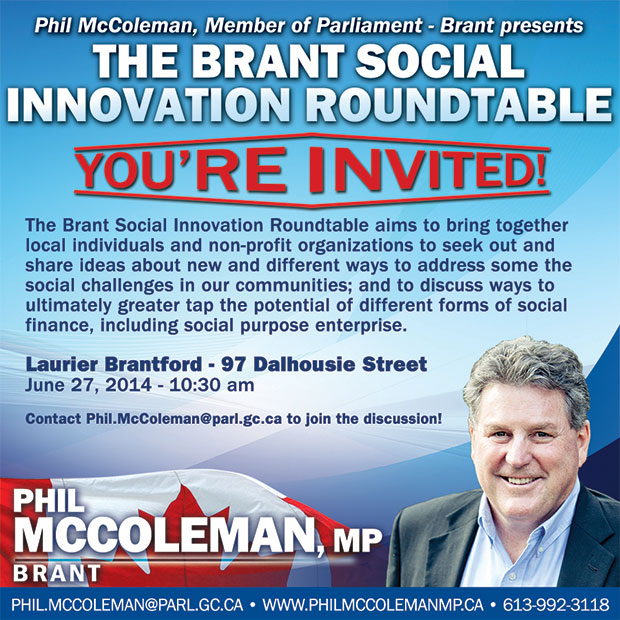 Brant MP and Chair of Parliament's Standing Committee on Human Resources, Skills and Social Development and the Status of Persons with Disabilities, is inviting organizations and individuals from across the Brant Riding to take part in the Brant Social Innovation Roundtable.
The Brant Social Innovation Roundtable aims to bring together individuals and local non-profit organizations to seek out and share ideas about new and different ways to address some the social challenges in our communities; and to discuss ways to ultimately greater tap the potential of different forms of social finance, including social purpose enterprise.
Social finance has enormous potential for unlocking new sources of capital and creating a broader shift in the way that all of us - governments, business, not-for-profits, charities and foundations - work together toward new ways to improve social and economic outcomes for Canadians. Social finance enables 'social entrepreneurs' to pursue projects and activities to achieve the dual goals of social impact and financial return.
The federal government has signaled its interest in learning more about opportunities in social finance and how federal programs can contribute to a more robust social enterprise sector. As Chair of Parliament Hill's HUMA committee, McColeman will deliver local feedback from the Brant Social Innovation Roundtable to Parliament Hill in advance of the next federal budget.
McColeman is inviting individuals and local non-profit organizations - those already exploring social finance endeavors and those who may simply wish to learn more about them – to take part in the roundtable discussion. Interested board members of local organizations are also invited to take part, as well as local businesses and financial institutions.
Some representatives of organizations outside the Brant riding who have experienced success in social enterprise are also expected to attend and share their stories.
When:
June 27, 2014; 10:30 am
Where:
Laurier Brantford; 97 Dalhousie Street
RSVP:
Contact Phil.McColeman@parl.gc.ca to RSVP